The Lenape or Delaware Indians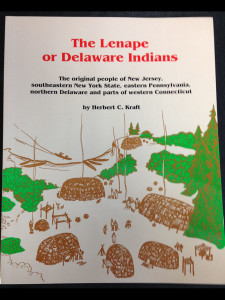 Click on image to enlarge…
Written by Herbert C. Kraft. Copyright Lenape Lifeways, 2005.
Now in its sixth printing, this authoritative, informative, and highly illustrated book has been endorsed by teachers and Native Americans as the best resource of its king. Adopted for use in many classrooms throughout New Jersey, eastern Pennsylvania, southeastern New York State, northern Delaware, and also in Delaware and Munsee Indian communities in Oklahoma and Canada, this book is now enhanced by updated maps and colorful cover.
The Lenape or Delaware Indians describes Lenape culture as it was when European explorers and colonists first discovered them. Vocabulary and concepts are appropriate for a fourth-grade reading level. The book was designed under a grant from the New Jersey Department of Education and the New Jersey Historical Commission, with the active participation of third and fourth grade teachers and elementary school librarians.
Softbound, 61 pages.
In stock