Kansas Headquarters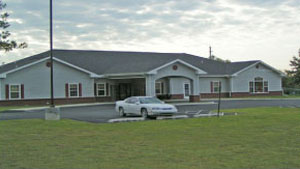 The Delaware Tribe of Indians now has a second tribal headquarters at 601 High Street, Caney, Kansas. This headquarters is occupied by tribal administration and several tribal departments and/or affiliated organizations, including Delaware Tribal Financial Services, the Tribe's Child Support Services, and the Tribal Court.
Delaware Tribal Financial Services (DTFS)
The Delaware Tribe of Indians, along with Delaware Tribal Financial Services, are pleased to announce their entering of the reinsurance and captive domicile marketplace. As a sovereign nation and federally recognized Tribe, the Delaware Tribe of Indians has created an innovative and alternative answer to the traditional offshore captive domiciles. Through the utilization of technology and direct access to regulators and providers, the Delaware Tribe of Indians is building an efficient, and highly successful risk-based regulatory environment to promote the needs of its clients and the ease of conducting business.
DTFS is a premier sponsor at the Agent Summit 2013 (March 4-6, 2013, Las Vegas, Nevada (http://agentsummit.com/sponsors/delaware-tribal-financial-services/).
Contact Information:
Family & Children Services
In October 2012 the Delaware Tribe was awarded a two-year Child Support Enforcement Planning Grant under the Title IV-D of the Social Security Act. This grant enabled the tribe to develop a Child Support Enforcement program overseen by the Department of Health and Human Services (DHHS).
As of July 2015, we are now Delaware Tribe Child Support Services!
Child Support Services include
Location of Non-Custodial Parents utilizing federal and state software
Paternity establishment
Establishment & Enforcement of child support orders
Modification of support orders
Child support collection and disbursement
We also provide information and referral to other assistance programs that may fit the family's needs.
Operating hours are Monday through Friday 8am to 5pm.
Staff
Case Specialist – Arleata Snell
Financial Specialist – Shelby Lacey
The staff works with the Tribal Court and child support experts to provide financial and cultural support to the children and families in our service area.
Delaware Tribal Court
The Kansas Headquarters is currently the home of the Delaware Tribal Court, where ongoing cases will be heard. The five-member Tribal Court (Chief Judge Don Mason, Judges Cameron Fraser, Rick Barnes, Bethany Green, and Nathan Harrison Young III) will regularly conduct business of the Court in the Kansas Headquarters.
Tribal Administration
Tribal officials will be on-site regularly to conduct official business and to help serve tribal members in northern Washington County, Oklahoma, and southern Kansas.
Community Services/Housing
The Kansas Headquarters will have a variety of application forms for Community Services, Housing, and Educational Assistance. Enrollment forms for Tribe membership will also be available. Tribal members are invited to come to the Caney office to apply for these services.