About the Delaware Tribal Seal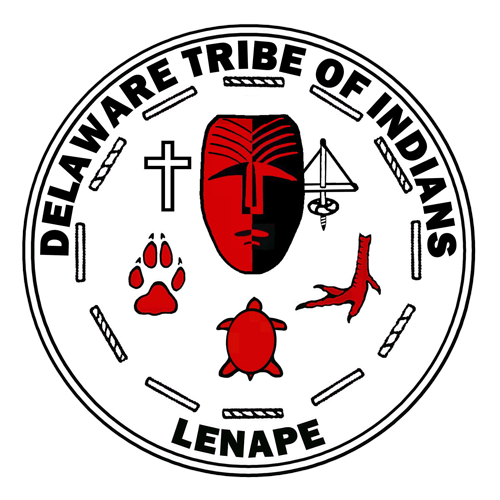 After over 40 years, the Delaware Tribe has adopted a new version of the official tribal seal. The changes to the artwork and lettering were developed in collaboration with tribal community members. It was approved by a resolution of the Tribal Council on January 7, 2013.
Look for the new seal on tribal flags, stationery, official documents, and tribal vehicles.
About the Seal
Colors: Red and black are the main colors used by the Lenape. These are on a white background.
Mesingw Face: The Mesingw face in the center of the seal is the Keeper of the Game Animals on which the Lenape depended for food. The face was carved on the center post of the Big House Church ("Xingwekaown"), a wooden structure which held the tribe's historic religious ceremony (though no longer practiced).
Clan Symbols: These represent the three clans of the Lenape: Turtle, Wolf and Turkey.
Fire Drill: The Fire Drill next to the Mesingw face is used to build ceremonial fires.
Prayer Sticks: These are around the outer edge of the seal and represent the twelve prayer sticks that were used in the Big House Church.
Cross: There is also a Christian cross to represent those Lenape who accepted Christianity. Some of the Lenape people had converted to Christianity as early as the 17th Century.
The Old Seal (Tribal seal, 1970 to 2012)
The seal-revision project was started in mid-2012 in consultation with members of the Culture Preservation Committee and Elders Committee. Revisions included removal of the words "Seal of the" and replacement with the tribe's official name; replacement of "Lenni Lenape" with the more common term "Lenape," which means "The People"; and replacement of the Mesingw face, the wolf paw print, turkey talon, and turtle symbols with more accurate artistic representations. The plains-style "peace" pipe was removed as it wasn't an actual part of the ritual instruments of the Big House Church ceremony. The Christian cross was changed to white with black border so as not to be confused with the Red Cross organization.
| | |
| --- | --- |
| Old Seal | New Seal |
Seal is copyrighted by the Delaware Tribe of Indians. All rights reserved.